Save Lives in Sudan (Scroll down for English)
Kära vänner, medlemmar och följare,
Ni känner säkert till om det sudanesiska folkets lidande på grund av krigsutbrottet och den militära konflikten i Sudan och de kränkningar som sker utan att ta hänsyn till civilbefolkningens säkerhet eller att följa internationella lagar och humanitära normer. Obeväpnade civila utsätts också för rikoschetter från skjutningar och bomber och ibland även direkt eld. Även ambulanser har attackerats.
I denna situation av fullständigt kaos är hälso- och sjukvårdsinrättningarna satta ur drift på grund av bombningar, brist på mediciner, strömavbrott och brist på bränsle för att driva reservgeneratorer. Dessutom är det brist på sjukvårdspersonal på grund av belägringen av dem, vilket hindrar dem från att röra sig säkert eftersom de är måltavlor för kulor.
Hälsosituationen har försämrats, vilket har lett till en ökning av antalet dödsfall till följd av skador, såväl som på grund av sjukdomar. Patienter med kroniska sjukdomar har svårt att få tag på medicin på grund av bristen på livräddande läkemedel. Dessutom sprids sjukdomar och epidemier till följd av bristen på miljö- och hälsoskydd samt lik som ligger på gatorna utan möjlighet att begrava dem på grund av de fortsatta militära sammandrabbningarna.
Vi vädjar till dig, i mänsklighetens namn, att donera pengar för att hjälpa den medicinska personalen och hälsoarbetare som har etablerat fältkliniker i bostadsområden, för att minska effekterna av hälsokrisen, förhindra att hälsosituationen förvärras och ge grundläggande sjukvård och räddningstjänst till alla som behöver det.
Hälsningar från Svensk-Sudanska Föreningen och de sudanesiska föreningarna i olika städer i Sverige.
Du kan skicka din gåva genom direkt överföring var som helst ifrån. Inifrån Sverige via bankkonto eller Swish-appen. Från hela världen via Paypal (med Visa och MasterCard).
Vänligen skriv RäddaLiv i överföringsmeddelandet.
Svensk Sudanska föreningen
– Swish: 123-3794732
– Bankgiro: 5295-7594
– International Bank Transfer:
IBAN: SE2250000000052151091317
BIC/SWIFT: ESSESESS
Bank: Skandinaviska Enskilda Banken (SEB), 106 40 Stockholm
On April 15th 2023 a military conflict and war started in Sudan, between then two government forces, the Army and the Rapid Armed Forces. It started in Meroe and Khartoum and spread afterwards to other cities (see image – UNHCR). Fighting with heavy weaponry is occurring without considering the safety of the civilians nor following international laws and humanitarian norms. This war is directly affecting at least 10 million people, and in the long run will affect all Sudans 45 million population.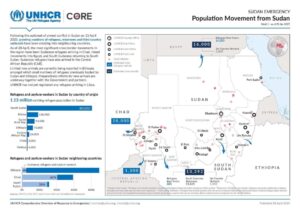 In this situation of complete chaos, the health facilities are out of service due to bombing, lack of medicines, electric power cuts and shortage of fuel to operate back-up generators. In addition, there is a shortage of health workers due to the siege of them, preventing them from moving safely since they are targeted by bullets.
The health situation has deteriorated, which has led to an increase in the number of deaths due to injuries, as well as diseases. Patients with chronic diseases face difficulties in obtaining medicine due to the scarcity of life-saving medicines, Furthermore, diseases and epidemics are spreading, which results from the lack of environmental health and the spread of corpses in the streets without the ability to bury them due to the continuing military clashes.
We appeal to you, in the name of humanity, to donate to help the medical staff and health workers who have established field clinics in residential areas, to reduce the effects of the health crisis, prevent the health situation from worsening, and provide basic health services and emergency services for everyone who needs it.
We in the Swedish Sudanese association and the 13 participating Swedish organizations and Sudanese communities in Sweden are monitoring the situation daily and in contact with field medical staff and some other NGO's. It has not been decided yet who and how this campaign will be sent to Sudan. We will do our best to put this money on the best use. We will keep you posted. Follow our Facebook page for continuous update on the raised funds and everything else.
You can donate money through instant transfer from anywhere. From within Sweden via a bank account or the Swish app. From all over the world via Paypal (by Visa and MasterCard). Please write SaveLives in the transfer message.
Swedish Sudanese Association
– Swish: 123-3794732
– Bankgiro: 5295-7594
– International Bank Transfer:
IBAN: SE2250000000052151091317
BIC/SWIFT: ESSESESS
Bank: Skandinaviska Enskilda Banken (SEB), 106 40 Stockholm