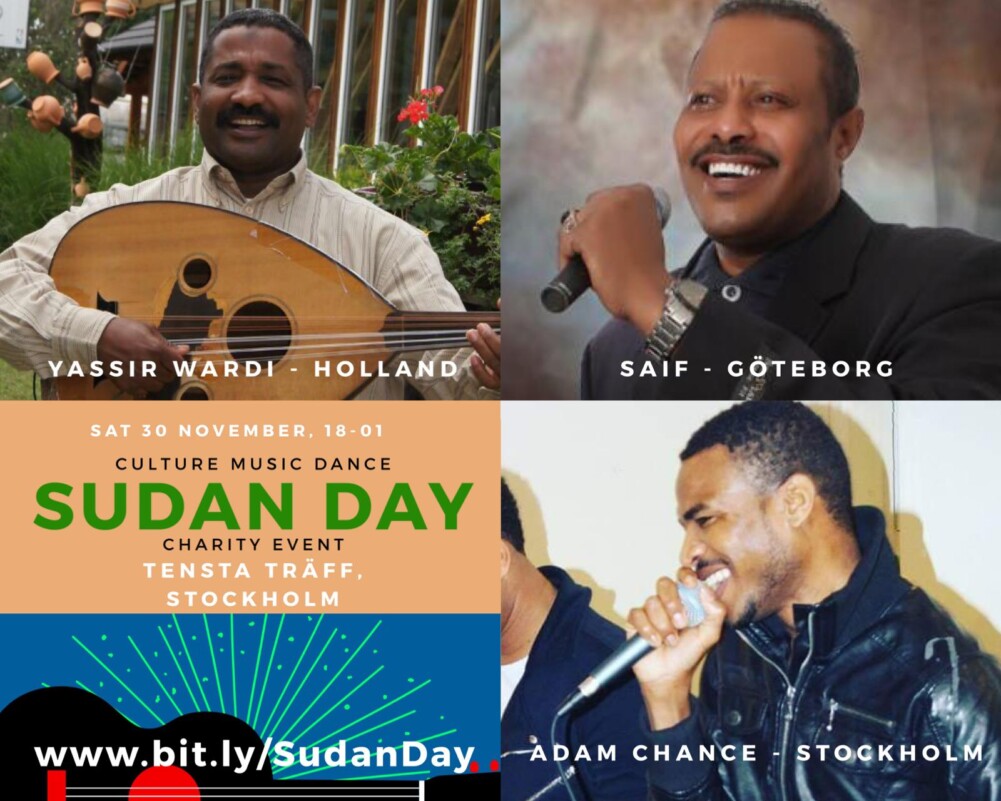 Välkommen till Sudan Dagen den 30/11 2019
Kl 1800 – 0100 i Tensta Träff, Stockholm. Organiseras av Svensk Sudanska Föreningen tillsammans med 8 andra fantastiska Svenska – Sudan relaterade föreningar. Läs mer om eventet och föreningarna på Svenska i den bifogade marknadsföringsbladet längst ned på sidan. Se uppdateringar med intressanta video och foton på Sudan Dagens Facebook Event sida.
Nedan info på engelska och video:
SUDAN DAY – SUDAN DAGEN
يوم السودان
Date: Saturday 30 November 2019
Time: 18:00 to 01:00
Place: Tensta Träff, StockholmEntrance Fee: 100 kr / personBuy tickets at the event or in advance through contacting/swish Mahgoub Mohamed 0733-223326.Sudan Day event will start with a short presentation about Sudans cultures, then there will be live music performance for the rest of the night.Artists: Yassir Wardi, Adam Chance, Saif Awad and more. See artists section bellow for details.Organised by:
Darfour Region (Darfur and Fur Associations), Nätverket för Fred på Afrikas Horn, Nubian Association in Sweden, Sawa Sweden Västerås, Sudanese Association in Järva, Sudanese Association in Stockholm, Sudanese Association in Uppsala and Swedish Sudanese Association. In cooperation with Sensus studieförbund Stockholm. (See organisations sections bellow for details).
About Sudan Day:
Sudan has a very beautiful, rich, diverse and inspiring music and culture. Sudan Day is a day all people in Sweden with Sudan in their hearts to meet, learn about Sudans culture, listen to great Sudanese music performance and dance to the great Sudanese rhythms. We have great artists that will be performing live. You can read about them bellow in the artists section (which will be updated as new artists join).
Sudan Day is a charity music and culture event organised by several non-profit and non-governmental organisations that have a relationship with the Sudanese people and some that have charity work in Sudan. We have united our efforts and contributions to together make Sudan Day a great day for all. Without this we would never have been possible to make Sudan Day. You can read about these organisations in the Organisations section (Also this section will be updated as new organisations join as co-organisers).
All earnings from the event will go to support the organising associations community beneficial work and charity projects. You can get to know more about each organisations work and charity projects here and in their websites/FB-pages, but you are most welcome to ask, and someone from the organisations will help answer your question.
ARTISTS
(Confirmed)
– Yassir Wardi
Yassir Wardi lives in Holland. He is famous in Europe and some have even been calling him Wardi Jr, as he sings and sounds much like the great Sudanese and one of the most famous singers in Africa, the great Mohammed Wardi (RIP). Yassir Wardi sings a variety of popular Sudanese songs.
– Adam Chance
Adam Chance lives in Stockholm. He is famous and known in the Sudanese communities and other communities from Horn of Africa in Sweden and sings very lively songs that are popular among the Sudanese people and others. Songs that you can't resist to dance for.
– Saif Aldeen Awad
Saif Awad is from Gothenburg. He is famous and known in Gothenburg and sings popular Sudanese songs.
We welcome all artists who want to contribute to Sudan Day. We would love to have female singers and also singers who sing songs in different Sudanese languages or known in certain regions of Sudan. If you are a singer and you or/and your band want to contribute and sing in Sudan Day please send us a message.
Organisers:
Bellow in alphabetical order are the organisers. We will update with info about each association as we receive it. We also welcome other Sudan related associations in Sweden who would want to become co-organisers with us. If you are interested then please contact us via message or contact Mutasim at: motasim
Information about the organisers (alphabetical order):
– Darfur Region (Darfur and Fur Associations)
Darfur association in sweden is non-profit, cultural and social organization founded in Norrköping, 2007. The association focus on integrating the darfuran community in Sweden. And help the people in Darfur region. For instance donation to help Torba village,south of jebel Marra, for the landslide 2018.
Facebook: https://www.facebook.com/Darfurian-Association-In-Sweden-1563759343754029/
Email: Info@dasweden.org
Fur Association_sweden
It is a socio-cultural association concerned with family bonding, preserving the mother tongue and cultural heritage and reflecting it on Swedish society and contributing with other communities to create a spirit of love and affection
Founded in 2016 and based in Motala
Email: furassociationisverige@gmail.com
– Network for Peace in the Horn of Africa
Nätverket för Fred på Afrikas Horn
– Nubian Association in Sweden
Nubiska Föreningen is a non-political and independent non-profit making organisation. It was founded and registered in Stockholm in the year 1995. The prime objectives of the Association are to assist our members and their children to learn and master the Nubian language, history and heritage. The Association also aims to promote and advance the education of the Swedish and Sudanese public about the rich cultural heritage of Nubia and its great civilisation which dates back to over seven centuries. We endeavour to do this through the organisation of cultural events, lectures, workshops, film shows, arts & folklores, publications and social gatherings.
Adress:
Nubiska Föreningen i Sverige Grödingevägen 2
147 30 Tumba
Contact person: Mahgoub Mohamed 0733223326
– Sawa Sweden Association in Västerås
– Sudanese Association in Järva – Sudanesiska föreningen i Järva (SFJ) الجالية السودانية بيارڤا
Föreningens verksamhetsområde är att hjälpa och arbeta med barn och ungdomar för idrotts, kultur och scout aktiviteter, med modermål språk utveckling och alla möjliga fritids intresse, att integreras och introduceras det sudanesiska i det svenska samhället genom olika kulturella aktiviteter som arrangeras.
E-post: http://sudanesiskaforening.se
– Sudanese Association in Stockholm
Email: sudanassociation@sudanassociation.se
Facebook:
Sudanese Association in Stockholm
– Sudanesiska föreningen i Uppsala/Sudanese Society in Uppsala:
We are a group of sudanese men/women/children that have been living in Sweden for 1 to 30+ years. The aim of this association is to be aware of our background and identity.
Work in sweden: Arabic school every Saturday, football game every Saturday, monthy gatherings. Parties during main events (for example New Year's Eve).
Charity: Medical materials and equipments have been sent to Sudan several times. A swedish doctor has been to Sudan more than once in order to work in Omdurman hospital (Renal Department). He has also been participating in helping out students in the faculty of medicine in Ahfad University.
E-mail: sudanfiuppsala@hotmail.com
Facebook:
Sudanese Society in Uppsala. الجمعية السودانية بأوبسالا
– Swedish Sudanese Association:
Founded in 1968, as one of the first Sweden-Africa friendship associations in Sweden. Swedish Sudanese Association started as a friendship association between the people of Sweden and Sudan. In the 80s it evolved to include also development and charity projects in Sudan and cultural events in Sweden and Sudan. Until today SSA has built a School in Sudan (Knalleskolan), an anti-desertification, water, agriculture and capacity building project for 7 villages, supplies of medical equipment, support to orphanage, a scholarship program and built/owns Sweden House in Khartoum (a social and cultural club with lots of interesting activities and events). Currently we have an ongoing fundraiser for repairing the well and supplying solar-electric system for the well for Knalleskolan and the village of Alawaija in Sudan. All are welcome to become members in SSA.
Website (Swedish): http://www.swedishsudanese.org
Facebook page (mostly English): https://www.facebook.com/SSAorg
Email: info@swedishsudanese.org
Sudan Day is made in cooperation with Sensus studieförbund Stockholm. We thank Sensus for giving us the space for several weeks to meet and plan the event and supporting us with printing leaflets and posters.