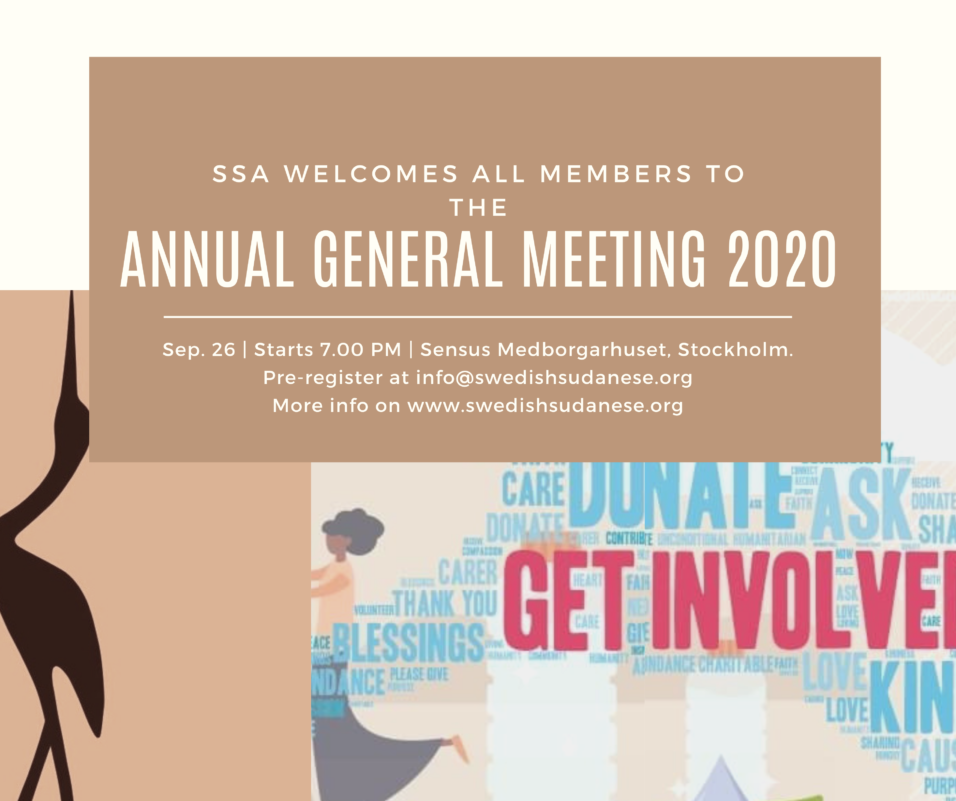 (for English please scroll down)
Kallelse till SSF:s Årsmöte Lördag 26 September 2020
Bästa medlem och stödjare av SSF,
Nu är det dags igen för Årets viktigaste händelse! SSF- Svensk Sudanska Föreningen kommer att hålla årsmöte. Vi hälsar Dig varmt välkommen att delta på Årsmötet!
Du som medlem är som alltid viktig för föreningens framtida utveckling, arbete och aktiviteter. Kom och delta och hör om allt som hänt under året som gått!
Vi vill påminna om att betala in medlemsavgiften för 2020 i god tid före Årsmötet:
Bankgiro: 5295–7594 Swish: 1233794732
Vänligen märk betalningen med "Medlem 2020". Skriv ditt namn, postadress och
mailadress i meddelande fältet så får du Verksamhetsberättelsen för 2019,
nyhetsbrev och information under året! 
Medlemsavgiften för 2020:
 100 kr/individ,
 50 kr/student-pensionär
 150 kr/familj
 200 kr/företag och förening
Årsmötet kommer hållas:
Datum: Lördag 26 september 2020
Tid: Kl 19.00
Plats: SENSUS – Medborgarhuset, Medborgarplatsen 4, 7 tr. Stora salen.
Gå in i entrén i marknivå vid Forsgrenska badet – ta hiss eller trappa till
höger upp till våning 7 – vänster sida när du kommer ut från hissen.
Program
19.00 Förtäring och registrering samt presentation om våra aktiviteter i
Sverige och Sudan 2019–2020
20.00 startar Årsmötesförhandlingen (se dagordningen på sida 2 i Kallelse och Dagordning till Årsmöte SSF 2020)
OBS!
Mot bakgrund av Covid 19-pandemin och vår vilja att ta emot alla på ett så
bra och säkert sätt som möjligt ur smittskyddssynpunkt är det viktigt att du
föranmäler ditt deltagande på årsmötet till info@swedishsudanese.org och
att vi alla känner oss infektionsfria som deltar förstås!
Vi ser fram emot att träffa Dig på årsmötet!
Mycket  välkommen!
Styrelsen SSF
---
English:
Notice of Annual General Meeting, Saturday 26th September
2020
Dear member and supporter of SSA,
Now it's time again for the most important event of the year! SSA- Swedish-Sudanese Association will hold annual Annual meeting. We wish you a warm welcome to participate on the Annual Meeting!
As a member you are always vital for our progress and for our future work. Come and join us and hear about everything that has happened over the past year!
We want to remind our members to pay the annual membership fee for 2020 before the Annual meeting.
Bankgiro: 5295-7594
Swish: 1233794732
 100 Skr/Individual
 50 Skr/Student-Pensioners
 150 Skr/Family
 200 Skr/Association-Corporation
In the message/OCR field of your payment, please mark your payment with "Member 2020". 
Also enter your name, postal address and email address in the bank payment message field, then you get the Annual Report of 2019, newsletter and information during the year! 
Date:  Saturday 26th September 2020
Time: Starts at 19.00
Venue: SENSUS – Medborgarhuset, Medborgarplatsen 4, 7 tr. Big room (Stora Salen).
Enter the entrance at ground level at the "Forsgrenska badet" -> take the elevator or stairs up to floor 7 -> left side when you get out of the elevator.
Program
19:00 Coffee/Fika and presentation about our activities in Sweden and Sudan 2019-2020
20.00 Start for the Annual meeting procedures. See the agenda in the second page of: Notice SSA Annual General Meeting 2020 – Agenda Proceedings
Note! In light of the Covid-19 pandemic and our willingness to receive everyone in the best and safest way from the point of view of infection control, it is important that you pre-register your participation for attending the annual meeting to info@swedishsudanese.org and that we all feel infection-free who participate of course!
We look forward to see you at the Annual meeting!
Most welcome!
The Board of SSA
---